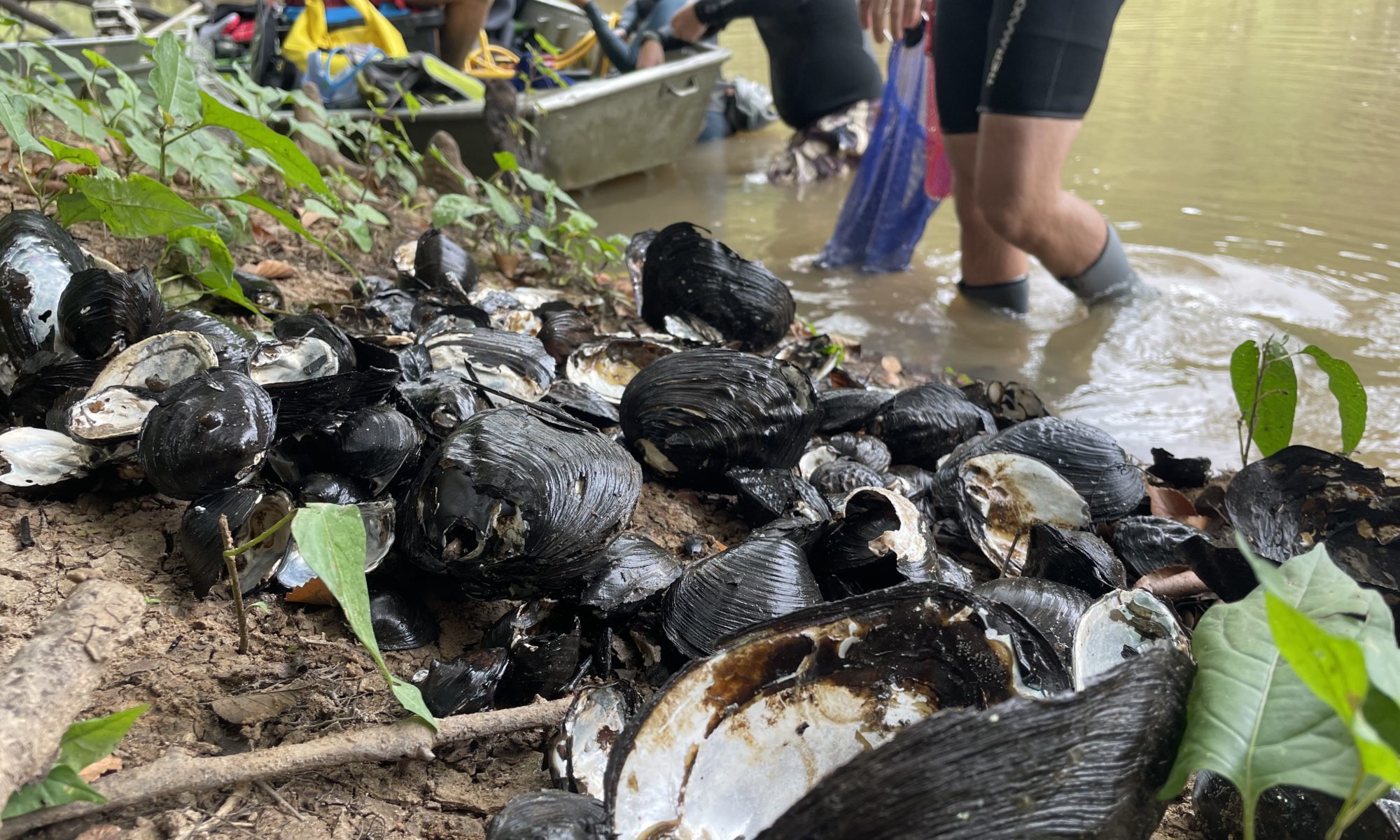 School of Natural Resources Assistant Fisheries Professor Augustin Engman joined Gerry Dinkins with the McClung Museum of Natural History and Culture and other researchers to survey 25 sites on Bayou Bartholomew in Louisiana for freshwater mussels for about a week and half in 2021.
The American Malacological Bulletin published their study "Status and Distribution of Freshwater Mussels in the Louisiana Section of Bayou Bartholomew" in its December 2022 issue.
The research focused on freshwater mussels found in Bayou Bartholomew before the tributary converges with the Ouachita River.
"We were approached by Louisiana Department of Wildlife and Fisheries to conduct the survey of mussels in Bayou Bartholomew because the bayou is one of the only rivers left in Louisiana that has not been altered by dredging and deepening, and historically it had been shown to harbor a rich array of species," Dinkins said. He added the last and only drainage-wide survey took place almost 30 years ago.
Dinkins is the lead author on the research. Other authors include Engman, UT Wildlife and Fisheries graduate student Winston Clark, Brittany Bajo-Walker of the Virginia Department of Wildlife Resources, Justin Wolbert of Fisheries and Aquatic Monitoring with the Tennessee Valley Authority, Dr. Kyler Hecke with the Department of Biological Sciences at Arkansas Tech University and J. Brian Alford with the School of Environmental and Natural Resources at Ohio State University.
From Sept. 23-Oct. 3, 2021, they observed 35 mussel species including two listed as federally endangered and 13 on Louisiana's list of Species of Greatest Conservation Need. They sampled 100 river kilometers on the main channel of Bayou Bartholomew and four tributaries from downstream of the Arkansas-Louisiana state line.
The team collected genetic material on the Rabbitsfoot mussel for the U.S. Fish and Wildlife Service and on the Pyramid Pigtoe mussel for the U.S. Geological Survey. The Rabbitsfoot species is a federally endangered mussel, and the Pyramid Pigtoe is a candidate for the Federal Endangered Species list.
"Our data has been used by geneticists at both federal agencies to inform them of how to proceed with conserving both species," Dinkins said.
Their study recommends management actions to protect Bayou Bartholomew along with efforts to stabilize eroding banks and channelized tributaries. It also urges periodic monitoring to conserve the habitat.
Dinkins presented the study's data at the 2023 Freshwater Mollusk Conservation Society Symposium in Portland, Ore., in April.
Along with data on mussels, the study provided information on freshwater snails in Bayou Bartholomew. The Louisiana Department of Wildlife and Fisheries made the survey of freshwater snails one of its priorities for State Wildlife Grant funding this year. The team has applied for a State Wildlife Grant to study aquatic snails in the area.