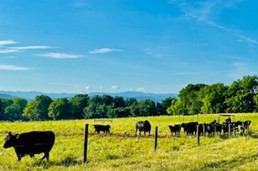 Do you like the sound of lowing cattle in the mornings? Do you enjoy strolling through tall grasses while looking at beautiful mountain views? Do you love the outdoors? Then, we have a job for you!
The Center for Native Grasslands Management (CNGM) at the University of Tennessee is looking for seasonal field research technicians to assist graduate students with their research projects for 2023. Our projects evaluate the responses of native grasses to enhanced biodiversity and the contributions of these grasses to forage production systems. Primary duties will include field data collection, data entry, maintenance of research sites, and other tasks as needed. Some travel outside of the Knoxville area is expected; a university work vehicle will be provided for work travel.
Qualifications:
A high school graduate or equivalent with a minimum of one year of college and at least 18 credits of college coursework. Applicants with a background or interest in natural resources, forestry and/or agriculture are encouraged to apply. Knowledge of basic mathematics, data collection, map reading, interpretation of aerial photographs and plant identification will be important for applicants. In addition, applicants must be able to work well independently and with other people, work outdoors in adverse conditions, have flexible scheduling and maintain a safe working environment.
This position has a flexible start time of April 2023. Starting rate at $14-16 per hour depending upon qualifications. Hours will range from 30-40 hours per week. To apply, please submit a cover letter, resume, and three references as a single PDF document to Megan Berry (mberry37@vols.utk.edu), Jessica Prigge (jprigge@vols.utk.edu) or Dr. Eric Bisangwa (ebisangw@vols.utk.edu).
Please place "Field Technician Application – your last name" in the subject and on your documents. Applications will be reviewed as they are received.